Hello my name is Sonya Adam, Lisa's younger sister, and she asked me once in 2004 and again in February of this year if she were to die, would it be ok if I spoke at her funeral. Lisa was one of my closest friends and I feel honored to speak on behalf of her LIFE. It's only with the Lords hand upon me and the strength from the Holy Spirit that will help me share with you what God has laid upon my heart.
Lets PRAY: "Dear Jesus, I humbly come before you and ask for strength and courage to speak about my beloved sister, in Jesus name, AMEN"
Lisa Marie Adam was born on June 7 1979 in the Cowichan District Hospital and was raised by Hal and Marie Adam in Mill Bay. They were blessed with 3 healthy girls; Michelle first, followed by Lisa and finally Sonya ~ the baby ~ that's ME! The three of us sisters shared many great memories together since we were raised in a very loving, stable and Christian home. This includes; camping, hiking, travelling, swimming, cycling, playing sports and attending church. Lisa was beautiful, kind, caring, sensitive, generous, thoughtful, intelligent and had a heart for her family. She loved spending time with dad on walks to the ocean, reading and playing piano with mom, rowing with Opa Adam in his rubber boat, listening to Oma Kedlt and Oma Adam's stories and getting into all sorts of mischief with her older sister Michelle. (You know, since I'm the baby in the family that would never happen ~ hee hee) Ok, ok Lisa and I would also get into precarious situations together.
Lisa was a trustworthy, loyal and considerate friend and loved to spend time with her cousins; Dawn, Renee, Jenny, Aaron, Andrew, Monica, Karlyn, Lindsey, Alison, Lisa, Peter, Christy, Penny and Eric. A highlight for Lisa was having fun at our yearly family reunions in the summer at Bridal Falls and celebrating Christmas with both my mom's side and dad. As our Oma Adam would say "we were SO laughing". Lisa also felt a very strong connection with my dad's father - OPA ADAM, and at the age of 9 she felt totally heart broken when he died. As you can see, she loved and cared deeply for others.
As a family we faithfully attended Bethel Baptist Church until Lisa was a teenager and this is where she met her lifelong friends: Sam Chen (who was playing the piano in the prelude) and Derek Johnson. Lisa was a believer in Christ ~ meaning that she asked Jesus into her heart at a very young age and desired for this relationship to grow. Lisa displayed this by reading her Bible, practicing the piano, praying and singing songs and memorizing Bible verses in Sunday School!! And yes, she always received the most stickers!! As I look back its amazing, really, what she would do to earn a sticker…may it be practicing the piano, doing her chores, learning her times tables AND even overcoming her fear of dogs. A story that comes to mind is the time Lisa held a puppy for one whole minute during Show & Tell in Mrs. Veenstra's grade 5 class. When Lisa was 14 years of age our family started to attend Shawnigan Alliance Church and this is where Lisa decided to get baptized. She felt that this was an act of obedience to the LORD and chose this step of faith to further her desire to follow the Lord.
Lisa attended Duncan Christian School from grade 2 to grade 12 and developed strong friendships with Rebecca Vandergraph, Lisa Barton and Candace Fields, to name a few. I know they have many fond memories together. At school Lisa was disciplined, organized, thorough, excelled and succeeded in all areas of her life: in music, academics and in athletics. She was challenged intellectually at DCS and was loved by all of her teachers. She was an excellent student with a sharp mind and always gave of her time helping others who 'didn't quite get it' or needed that extra explanation. ME, being one of them! I don't know how many times I would approach Lisa in a panic about an essay or test and would exclaim, HELP!!! I was MISS Procrastination and not to keen about school, so Lisa would bail me out by helping me write essays, edit papers and tutor me in biology and math. Yes, I would have to say Lisa paved a good road for me to follow, as well as my older sister Michelle, and I admired her hard work ethic and was very proud of all of her accomplishments. Both Lisa and Michelle were my models growing up.
Lisa was determined to apply her gifts and talents in the working world. Starting with a paper route, babysitting (Lisa and I would go babysitting together and she would teach me how to care for little children) followed by housecleaning, A&W, Thrifty Foods, Chang and Wong accounting, Meals on Wheels and finally KPMG Accounting in Victoria.
As most of you know Lisa struggled with her health for many years but was determined to finish her education and find a place for herself in the professional world. Lisa had many loyal friends that stood by her even as her illness continued to gain ground. We thank YOU ALL for the love you poured out to her. When Lisa moved to Victoria about 5 years ago, Central Baptist became her home church. It is right here where I am standing that Lisa continued to serve the Lord until her last days with us on earth.
Now I would like to share with you some words Lisa opened to me in January 2004. Lisa hit another low with her health and was bed-ridden in the hospital. She was experiencing extreme swelling, convulsions, weakness and expressed her heart to me saying her GOOD-BYES. Her words were "Spread God's word and don't OPEN that door which can lead you down a long, difficult road. I never wanted to get so deep into this but it happened so slowly; very slowly it just sucked me in. Please, please share with others to love the body God has given you. Tell my story; I really want to".
In Psalms 143: 1 it says, "O LORD, hear my prayer, listen to my cry for mercy; in your faithfulness and righteousness come to my relief!"
At this time Lisa also called out to the LORD for help and he heard her cry. Lisa's life was graciously spared 3 years ago and since then she has touched many lives. Wherever she went people would OPEN up to her about their own struggles. Lisa always took the TIME to LISTEN for it was her hearts desire that everyone knew the LORD personally; she knew that her own burdens were being carried by the comforting arms of Jesus.
In Matthew 11:28 we read, "Come to me, all you who are weary and burdened, and I will give you rest. Take my yoke upon you and learn from me, for I am gentle and humble in heart, and you will find REST for your souls. For my yoke is easy and my burden is light."
The words Lisa spoke to me in January of 2004 impacted me greatly. I learned that LIFE is a GIFT ~ it's also SHORT ~ and we don't know when its our time to go…its in the hands of the beholder. We need to plan like we're going to live forever but live each day like it's our last. Lisa has taught me to NEVER GIVE UP…KEEP persevering…ALWAYS HOPE…and keep running the race that the LORD has set before us.
Acts 20:24, "I consider my life worth nothing to me, if only I may finish the race and complete the task the LORD Jesus has given me - the task of testifying to the gospel of God's grace."
I LOVE YOU LISA, I MISS YOU, I know you're in heaven doing all the things you missed like dancing, swimming and playing badminton. One day we'll be reunited.
Sonya and Lisa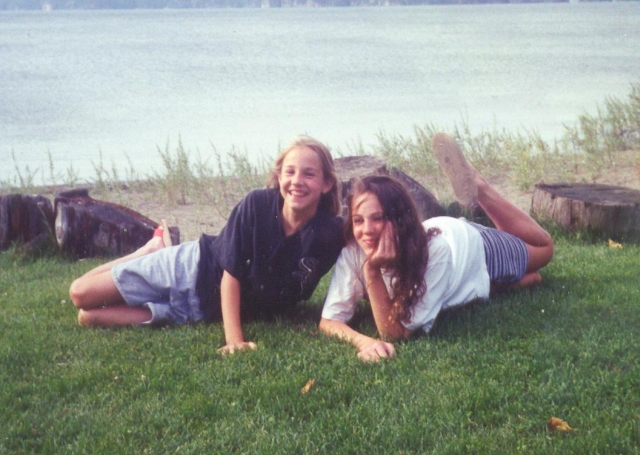 Those wishing to make a memorial donation can do so to:
Mercy Ministries of Canada
6788 152 Street
Surrey BC V3S 3L4


For donations by phone Mercy Ministries of Canada please call 604.596.2422 and let the person know it is in memory of Lisa Adam.